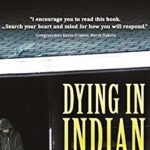 Purchase the book "Dying in Indian Country" for your elected official for the discount price of $14.99 and we will pay the shipping to send it to his/her office.
Buy a copy of the book through our website for any state or federal elected official – be it your U.S. Senator, U.S. Representative, State legislator, Governor, Attorney General, President, etc.  Let us know the name of your official, the personal message you want us to include, and we will send it!
IF YOUR CONGRESSMAN IS ON THE SENATE OR HOUSE COMMITTEE OF INDIAN AFFAIRS – We will send the book to him/her TOTALLY FREE – NO charge. Just email us your necessary information and the personal message you would like it sent with, and we will do the rest.
OR – purchase a copy for YOURSELF at regular price – and we will send a copy to an elected official of your choice at NO CHARGE.
(Amazon can't do this – the purchase must be made through this website or our Facebook page.)
We use addresses that are on public record, so you do not need to provide one for us.  If there is a particular office of theirs that you want it sent to, however, (ie: their DC office or their local office, etc.), just let us know.  As long as the address is a public address open to receiving their mail, we can send it.
Your State must match theirs as a constituent.  Please follow up with your elected official in two weeks to make certain they received it – and ask them their thoughts concerning it!   🙂
LOOK TO THE SIDEBAR ON THE RIGHT FOR THE TITLE
"Purchase a book at Discount for your Elected Official"