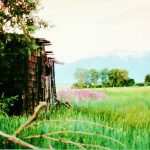 Wealthy, Prominent Families – including the BIDENS – have used lax Reservation Tax and Regulatory Laws to rake millions for themselves
A balanced composite of 30 sources over the last six years – including justice.gov, the Securities & Exchange Commission, Native Sun News, Indianz.com, Red State.com, and other liberal, conservative, and neutral sources…See Resources
I have long said that although lobbyist-criminal Jack Abramoff went to prison, none of the Congressmen he paid off went to jail, nor did the tribal leaders who gave Abramoff the money to give to the Congressmen. So why was it assumed that just because Abramoff was sent to jail, the graft had stopped?
"… The scheme was relatively sophisticated, with a lot of moving parts, and involved a variety of "players." ." (28) One of the main players, Devon Archer, was a long-time friend and business associate of Christopher Heinz, the step-son of John Kerry and heir to the Heinz ketchup family fortune. Archer was also a "fledgling Democrat Party bundler of campaign contributions" following his stint as "National Finance Chairman for John Kerry's 2004 Presidential campaign."
Archer and Heinz had met at Yale, where they were roommates. These men are also "Hunter Biden's primary business partner on matters involving Ukraine and China. Archer, Heinz, and Biden are the founding co-partners of a company called Rosemont Seneca Partners." (11) "Rosemont " is the name of the Heinz family's Pennsylvania estate, and it's attached to most business ventures connected "to the Heinz family foundation, or members of the Heinz family." (11)
"Jason Galanis is a career white-collar criminal with multiple felony convictions for securities fraud and other white-collar crimes. His father, John Galanis has a criminal record of white-collar crime going back to the 1970s" and is currently serving a federal prison sentence. (11) Jason Galanis has said his best friend is Bevan Cooney, a co-owner of a Hollywood club called the "The Viper Room." (11)
Some minor players may have been "Chad Jardine, a former marketing executive, and Blake Collins, an Internet entrepreneur" who had "set up an online lending company called Flobridge in 2009. State regulators soon began to notice their success. In December 2010, the state of Idaho issued a cease-and-desist order to one of their lending websites. The order stated that the company had issued Payday loans without a state license and illegally attempted to garnish the wages of two customers who didn't pay back their loans on time ." (16)
"By then, Jardine and Collins had incorporated a new company, Cash Cloud, in Arizona. It was only a matter of time before new cease-and-desist orders began arriving from other states that regulate payday lending. But Jardine and Collins could continue doing business if they found a sovereign native tribe to serve as their legal shield: The principle of tribal sovereignty offers immunity from the enforcement of state laws. Lending businesses affiliated with tribes are able to operate even in states that cap interest rates on Payday loans." (16)
"If a payday company has a legal affiliation with a tribe, "there's really nothing we can do" to stop them in court, explained Deborah Bortner, director of the consumer division of Washington state's Department of Financial Institutions." (16)
In comes Raycen Raines. Claiming to be an "entrepreneur" and business owner, Raines is said to have been born on the Pine Ridge Indian Reservation but left as a young child.(1) Others claim he might have been born in Oregon and raised in Alaska, but had Oglala heritage on his Dad's side..(16)
A former insurance salesman, Raines asserted that having been in the Navy, operated the American Horse Consulting prior to moving to Pine Ridge, and having worked various jobs over the years, he is qualified to be a "tribal economic development specialist" and could be a "keynote speaker at every economic development conference in Indian Country." (1) Around 2009, Raines, who has also been known as Raycen Ballard, Raycen A. Horseballard, and Raycen C. Rummell, began looking into enrolling in the tribe. In 2011, he enrolled in the Oglala Sioux Tribe and changed his name to "Raycen American Horse Raines." (1) He thenbegan developing a relationship with the Wakpamni community, various tribal officials, and investors from around Indian Country. Claiming he can "bring sustainable economic development to the reservation without the tribe needing to take any significant financial risk," Raines started a new company, Raindancer Resource Management, to "introduce private enterprise to the community." (1)
2011
Describing himself as a "Renaissance Indian," Raines had moved to Pine Ridge in 2011. Promoting himself as an "economic development consultant in Indian Country," he stated, "I don't have a wife and kids, as my career with bringing economic development to the [tribe] is my wife and kids." (16)
Raines promised tribal leaders that his economic development projects would "capitalize on the sovereign status of the Oglala Sioux Tribe" with little or no investment on their part. The projects included "the acquisition of Saigon National Bank, the pursuit of Housing and Urban Development grants, small business development, and a wind farm." (1)
"The central figures of this organization are Raycen American Horse Raines, R. Dennis Ickes, Valerie Red Horse, Michael "Rawhide" Sierra, Todd Gandy, Stephen Gomes, and Stuart Cohen. Raines calls these individuals his mentors. However, when OST Attorney David Frankel conducted the due diligence on their company, his discovery raised eyebrows and more questions." (2)
When Raines had become an enrolled member of the OST, he adopted the name American Horse. However, the American Horse Tiospaye has never heard of him. " (2) Also, Red Horse, a financial broker and investment advisor," had been "questioned by other sovereign tribal courts for failure to deliver on goods and services while working for tribes" (1) and at the time, had a "pending investigation against her and two other final judgment liens against her." Gomes and Sierra also had "past dealings with the Tribe, having charged substantial amounts to the Tribe and then failed to produce results. " (2)
Further, Raindancer had begun "soliciting the Oglala Sioux Tribe months before" it was even a registered business. "In fact, they were meeting with Tribal officials before they had possession of a valid Due-Diligent Pass, which is required under Tribal law. They were eventually granted a 30-day Due-Diligent Pass on September 15, 2011." However, they were not registered as an Oregon business until October 3, 2011. (2)
While Raines' businesses were eventually licensed by the tribal government, the projects were not initially approved by tribal agencies, which labeled the bank high risk, and the Black Hills Sioux Treaty Council claimed his projects would "commandeer, not only Tribal assets, but also private Tribal members' allotted land assets." (1)
"The Oglala Sioux Tribe's Law and Order Code, Chapter 2, Section 122 False Pretenses states…(a)"It shall be unlawful to obtain, take, or receive any property of another by means of a trick or deception, or false or fraudulent representation, statement, or pretense with the intent to deprive the owner thereof." " (2)
Then came the pitch for a payday loan company. In late 2011, Raines told tribal officials that "lending money to poor people at triple-digit interest rates" was a booming business and that "they, too, could get a cut of the action and bring in 'a free income stream' to the tribe." (16)
Honest people within some of the tribal agencies opposed the plan. "It was predatory lending," said Arlene Catches the Enemy, an official at the tribe's economic development office. (16) She also correctly noted that "tribal officials felt Raines' proposal shortchanged the tribe. Most of the money would go to a non-native-owned company, Arizona-based Cash Cloud LLC, which actually ran the lending business." (16)
"Payday loans are short-term loans with interest rates usually between 400 and 700 percent or higher. All a customer needs to obtain a loan is access to a computer and a personal bank account. The borrowers, who often have cash-flow problems and aren't able to get loans from traditional banks, usually agree to let the lender deduct interest and other payments from their bank accounts automatically." (16)
Despite the initial refusal by tribal agencies, "Raines went ahead and set up an online payday business anyway. FastMoneyStore.net used a post office box on the reservation as its legal address, even though Cash Cloud made and serviced the loans from Arizona. Soon Raines acquired partners" – with at least "14 payday lending websites" eventually claiming "to do business from Pine Ridge. Besides Cash Cloud, the other companies that make the loans appear to be based in Utah, Texas, Canada and Belize, according to an analysis of corporate records and government documents." (16)
"… in January 2012, Raines made his pitch to the Wakpamni district, one of nine regional subdivisions that make up the reservation. (16) Although the tribe elects a president and a legislative council to govern the reservation, districts like Wakpamni have the power to make business deals without permission from the council. Raines and his relatives lived in the district, and he had allies there." (16) Located within Oglala Lakota County which was designated by the U.S. Census Bureau in 1980 as the poorest county in the nation," Wakpamni has a population of about 5,000 (19) "If Wakpamni approved Raines' plan, Cash Cloud could start making loans around the country as an "official tribal entity," free from interference by state regulators." (16)
"Around 40 people showed up that night to the district headquarters…a few miles east of Pine Ridge, the reservation's largest town (population 3,308) ." (16)
"The meeting grew heated, according to Catches the Enemy, who was in the audience." (16)
"Raines was working the crowd."Does everybody here have a good job?" he asked, according to minutes of the meeting. "I didn't think so." (16) ""These big industries need to move onto sovereign land," Raines continued." (16)
"Raines had brought with him a draft contract that created a partnership between Cash Cloud and the Wakpamni district. Cash Cloud would pay a fee of $5 per new loan, up to $100,000 per month, into a bank account held by Raines. After the $100,000 threshold was reached, the lenders would pay $2.50 per loan." (16)
"Raines and the district would then split the monthly payments 50-50, which Raines said was fair since he had done "the work and put in the money and expertise to make this opportunity happen." ." (16)
"Sandy Two Lance, the president of the Wakpamni district, backed the proposal. "I support what they're doing because we have nothing," Two Lance said at the meeting. But the other three members of the Wakpamni executive board expressed skepticism." (16)
""Everything is in [the lenders'] favor," said Richard Little Hawk, a member of the board. "I want to see a meeting of open negotiation to reach an agreement that is beneficial to everyone." (16)
""He wants more money," Raines responded. "I don't have any more money to give you." (16)
"But Little Hawk and the other board members wouldn't budge. A few days earlier, the tribe's attorney had written Little Hawk an alarming email. "Entering into this agreement," the attorney warned, "would result into a huge legal liability" for the tribe and the district if state regulators decided to sue." (16) Two Lance realized she didn't have the votes she needed on the executive board. So she put the matter to a floor vote, a move that violated district rules because the meeting lacked a proper quorum." (16)
"If we make $2.50, that is $2.50 we didn't have before," said a member of the audience who seconded Two Lance's motion despite its procedural improprieties." (16) Only one person in the meeting hall voted against the contract. Little Hawk and the two other board members abstained in protest." (16) For Two Lance, the matter was settled. "The consensus is here," she said." (16)
"It's not going to be legal, but I'm going to do it and see what happens," she added, before signing the contract." (16)
Much has been made about how the payday scam was foisted on an impoverished, unsuspecting tribe. But it needs to be noted that while it was indeed forced on much of the tribe, many were very aware of the illegality of what was happening, and the officials who ultimately approved the scam knowingly intended to enrich themselves through predatory lending – lending that would intentionally prey upon poor people who could not afford the interest rates. Certain tribal members within the tribe wanted to benefit from the scam.
"To get the business going, Raines set up the Wakpamni Lake Community Corp., a holding company that legally owns the lending websites. But the Wakpamni district board refused to honor the contract Two Lance had signed, saying she had done so illegally. Raines kept making the loans anyway." (16)
Therefore, the companies were operating "without the tribe's official sanction" and did not share profits with the tribe. "The tribe has no ownership in that business," confirmed Bob Palmier, director of the tribe's revenue office." (16) "That means the company does not have a legal affiliation with the Oglala Sioux, according to tribal officials and legal experts. It also suggests that state regulators could sue if they judge Raines' company to be breaking state laws." (16)
"On Wednesday, January 18th, 2012, a judgment was issued in the Oglala Sioux Tribal Court against Raindancer Resource Management/American Horse Ventures LLC, et al, essentially barring them from doing any and all business on the Pine Ridge Indian Reservation. The suit, brought by Black Hills Sioux Nation Treaty Council Oglala Delegate Floyd Hand and Itancan Oliver Red Cloud, alleges that Raindancer's ultimate goal is to commandeer, not only Tribal assets, but also private Tribal members' allotted land assets." (2)
"According to their proposed partnership with the OST, they are seeking exclusive rights to allotted lands! This is what caught the attention of the Treaty Council. The Tribal Council has NO authority over individual tribal member's allotted lands. " (2)
"Let's assume the Tribal Council turns a blind eye to all this and allows Raindancer the exclusive rights to economic development. In their proposed contract with the OST, Raines asserts that he has a partnership with Robert McKee of Native American Investment Group (NAIG). Not to be confused with NAEG. According to OST Council Resolution #11-164, McKee has expressed an interest in providing $20,000,000 to fund a tribally owned "central" bank, using the Tribe's treaty rights and sovereign immunity. The Tribal Council and Executive Committee are not sovereign. They raise their hand to uphold the U.S Flag and Constitution. The Oyate have the sovereignty. " (2)
"The Tribe's own due-diligence attorney questioned the legality of the proposed "off shore" or "central" bank, calling it questionable and needing extensive research. The most alarming assertion that Raindancer/NAIG is making is that the Tribe assumes no risk and that the Tribe will not be subject to federal taxes, or the Patriot Act. Really? …Tribal members cannot even grow industrial hemp on their so-called sovereign land without the DEA storming in, but McKee and Raines are confident that they can by-pass the Feds. " (2)
"In a simple internet search, we discovered that Mr. McKee is party to a lawsuit in U.S. District Court in Utah (Case # 2:06CV00109 PGC). McKee is listed as President of Native American Oil Refinery Company (NARCO) which is being sued for failure to produce the promised capital of $50,000,000 to purchase a chain of convenience stores. When NARCO did not come up with the money, they strung the plaintiff along by increasing the payment to $65,000,000, plus offering standby letters of credit from a supposed Indonesian bank partner (another defendant, Bank Negara Indonesia-BNI) in the amount of $25,000,000. " (2)
"McKee's NARCO/BNI never paid any of the amounts owed to the plaintiffs, thus forcing the plaintiffs to foreclose on their properties. To that end, the plaintiffs are seeking damages of $115,000,000 from NARCO/BNI for breach of contract. This case has not been settled to date. So how can Mr. McKee offer $20,000,000 in seed money to start a bank on the Pine Ridge Reservation? Through "letters of credit" from a rogue Indonesian bank? That is deception and false representation. " (2)
"According to McKee's bio, his background is in oil and gas mining. In fact, he is a proud member of the American Petroleum Institute and the American Gas Association. So while his front may be to help the Oglala Lakota have their own bank, in my personal opinion, NAIG is teaming up with Raindancer to have exclusive rights to the Tribe's natural resources! It is actually stated in the preamble of the proposed agreement with the Tribe. The bank, wind/solar operation, etc. is just a front, in my own personal opinion. Just as infamous NAEG did a couple of years ago, promising to come in and "clean" our water. Where is NAEG today? Are they promoting their clean water technology on another rez? No, they are mining oil/gas in North Dakota and developing coal-bed methane in the endangered Cook Inlet Basin of Alaska. " (2)
"Raindancer has also attempted to enter into a contract with the Wakpamni District Executive Board to create a pay day loan operation. This type of enterprise is known as a "predatory" lending operation and is notorious for setting up in low-income communities across the U.S., preying on the disadvantaged. " (2)
"Although pay day loan businesses are legal, Raindancer's proposed contract with Wakpamni District Executive Board is illegal, according to Treaty Council legal advocate Bill Bielecki. According to the most recent copy of the Wakpamni District's Constitution & By-Laws, provided by the OST Secretary, the role of the District's Executive Board is to simply carry out the wishes of its communities. There is a distinction to be pointed out here. The District Executive Board is not the District Council. The District Council is comprised of members from the 6 communities and must have at least 4 communities with a quorum of 5 members per community, present at a meeting for it to be a legal District Council meeting. When the quorum standards are met, they collectively can vote on issues and business proposals for the progress and welfare of its District's membership. " (2)
"Additionally, according to Article VI, Section 2 of the Wakpamni District's Constitution states, "…Any resolution before the Oglala Sioux Tribal Council will be presented to the Wakpamni District by our Wakpamni District Representatives for discussion before they are voted upon." Article VI, Section 3 states, "…Any resolutions that the Wakpamni District Representatives present to the Oglala Sioux Tribal Council must originate in the Wakpamni District Council." " (2)
"While Raindancer/American Horse/NAIG are courting our District elected officials," it has been asserted that "there was never a legal Wakpamni District Council meeting, because they did not have a legal quorum of membership when discussing a joint venture with this group. " (2)
"Importantly, why would the Wakpamni District want to partner with a group that has such a questionable performance history? Why was the OST due diligence attorney shut down when he began delving into Raindancer/American Horse group's background? Why would the Wakpamni District Representatives offer a letter of support/endorsement for Raindancer even after the Treaty Council won a temporary restraining order against Raindancer? I would think that this action by our treaty elders would give them pause and encourage them to investigate Raindancer further. " (2)
"Perhaps they were all blinded by the bright light of a few shiny coins. We all want progress, employment opportunities and economic growth on Pine Ridge. Today's Treaty Council delegates are descendants of the original Treaty Council, the men that signed the 1851/1868 Ft. Laramie Treaties. It is their duty to uphold the rights that their ancestors fought and died for…to protect their homeland and its resources from being raped and pillaged by the fat takers. Exploiting what little land and resources that the Oglala Oyate have left is not progress or steps towards self-sufficiency. It will be the end of the Lakota way of life. " (2)
Nevertheless, the Wakpamni Lake company continued to operate. The company "gets around $4,000 a month from the lenders, according to Geneve Lone Hill, the company's president." Lone Hill claimed "half of that money goes to Raines, who uses it to help fund a native culture performance troupe and another group devoted to saving wild mustangs. Lone Hill gets the rest. She said she uses her share to buy fresh meat, fuel and other supplies for needy families in the area." (16)
"Catches the Enemy had no idea Raines had set up the lending companies without the tribe's approval. She said the first she heard of it was when Al Jazeera asked about the lender's connection to the Oglala Sioux. "We're doing what?" she exclaimed in surprise over the phone." (16)
"In an interview at her Pine Ridge office…Catches the Enemy said a tribal court had issued a temporary restraining order in early 2012 against Raines, preventing him from doing business on the reservation, and that the order had been served upon him with his attorney present. She said she would contact a lawyer to reopen the case." (16)
"We need to investigate. We have to look into it," claimed tribal president, Bryan Brewer, "I'm really sorry we don't know what's going on." (16)
2013
Defending the decision to move forward with the business, "Lone Hill said Ogala Sioux officials have systematically ignored the Wakpamni community, an isolated area with approximately 800 residents on the reservation's eastern border. "We don't get services out here," Lone Hill said. The payday money isn't much, she added, "but it's better than nothing." ." (16)
"In 2013, consumers filed 59 complaints against six of the Wakpamni online lending sites, according to data from the Federal Trade Commission. …"which came from residents of 20 different states, accused the companies of charging unadvertised, hidden fees and harassing customers with threatening phone calls and emails." (16) Lone Hill, however, is not bothered by the complaints. She said she had no problem with the loans because they were not made on the reservation." (16)
"Besides, she added, the Oglala Sioux have suffered long enough. "We're getting hurt here too by our own people and our government and our country, who are not treating us fairly," she said." (16)
"When you deal with people who are impoverished, they will go for any idea that promises cash," said David Mills, the director of the tribe's economic development office and Catches the Enemy's boss." (16)
Raines had successfully convinced many people to support his 'pay day loan' business and "capitalize on the sovereign status of reservation land" to avoid state regulations and taxes.
While the tribal court had initially ruled that the tribe could not do business with Raines, the "suit was eventually dropped" and not pursued by the tribe. (1) Wakpamni members claim their private business is independent of the Tribe and has "legal authority to conduct business as a corporation. (1)
While the payday scheme unfolded on the Pine Ridge Reservation in 2013, Hunter Biden was yet to be brought into the business ventures. "In…an email string dated October 5, 2013, in which Archer, Galanis, and Cooney go over changes to be made in Archer's "bios" as part of some business organizational affairs,… there is a reference to bringing Hunter Biden into the group, and "putting a little honey in his pocket." ." (11)
"Hunter Biden's business associates spoke candidly in emails about Hunter Biden's role in the business, particularly as it related to foreign ventures, apparently viewing the Biden name as a form of "currency," and bragging that they had a "direct…pipeline" to the Obama-Biden Administration." (10)
"In another email, Hunter Biden's associates touted Hunter's access to the White House and contrasted his willingness to "take on risk" with that of Chris Heinz—then-Secretary of State John Kerry's stepson and a close friend of Biden and Archer—who was uncomfortable with some of their potential partnerships." (10)
""In October 2013, Hunter Biden's associates (including Devon Archer) discussed which one of their corporate vehicles would be appropriate for a new deal they were working on. Archer noted their need to use a "Rosemont Seneca SPV" (also known as a special purpose vehicle) because Rosemont Capital was too close to the Heinz family and because using an SPV could "bring Hunter into the mix." Archer explained his desire "to leverage Hunter more" in a way that didn't involve Heinz, who Archer called "much more risk averse." ." (10)
"Another benefit of the Rosemont Seneca SPV was, per an October 5 email from Hunter Biden and Devon Archer's business associate Bevan Cooney to Archer, it "would be good to put some honey in Hunter's pocket." That same day Archer responded: "Agreed. I also have more autonomy with that company as I own it with Hunter and he's willing to take on risk… Hunter will work if we need him too [sic] as well." ." (10)
"Five days later, Biden's business associate Jason Galanis confirmed to Archer that he had changed the corporate references in the proposal to include a Hunter Biden-controlled firm. Archer replied, clearly pleased. "Perfect. Let's just keep to that. We get the Biden lift and stay out of Heinz panties." Archer had noted he would use Rosemont Seneca Partners instead of Rosemont Capital, in which Heinz held a stake. Hunter Biden and Devon Archer's Rosemont Seneca Partners would play a pivotal role in their future deals." (10)
In late 2013, Hunter traveled with his father aboard Air Force Two to Beijing, where the vice president was set to meet with Chinese President Xi Jinping." (25) Hunter, on the other hand, "met with Jonathan Li, of the Beijing-based private equity firm Bohai Capital Partners." The younger Biden then introduced Li to his father but denies that they discussed business." (22)
"Hunter and Archer had just concluded a large real estate deal with Bohai." (25) "Rosemont Seneca Bohai, the advisory firm controlled by Hunter Biden and Archer," was partnering with "a Chinese asset management firm to form BHR Partners" – of which Li was to be CEO. (22) It was at this time, in December 2013, that "Rosemont Seneca Partners finalized a deal with the Chinese government-backed investment vehicle, Bohai Harvest, to form Bohai Harvest RST, a new firm in which Hunter Biden would maintain a 10% equity stake and whose funds would grow to at least $1.5 billion." (10)
In "December 2013, as has been widely reported, Biden and Archer secured a $1 billion private equity deal financed by the Chinese government." (10)
2014
The "Roll up" plan:
In early 2014, "Jason Galanis, Archer, Bevan Cooney, and others were working together to acquire financial services companies that they could "roll up" into a large financial conglomerate with Archer at the helm. They began by investing in Burnham Financial Group ("Burnham"), a well-established financial services company with a prominent name that they sought to leverage in building their own conglomerate." … minutes from "a meeting of the Board of Trustees of Burnham Investors Trust,"… owner of the Burnham Financial Group, which "Archer and the others ended up acquiring," and which included the subsidiaries Burnham Asset Management, Inc., (BAM) and Burnham Securities, Inc. ." (11) But to purchase additional …"roll-up" companies, they needed capital." (11) "As part of the Indian Tribe bond fraud scheme, they acquired control of a few businesses and then used those businesses in the execution of the fraud — which brought them the proceeds from the sale of the Indians' bonds — $28 million in the first sale." (11)
"In 2014, Hunter Biden and Archer joined the board of Burisma Holdings, a Ukrainian energy firm." (22)
Biden and his associates "established bank and financial accounts with Morgan Stanley … for Burisma Holdings Limited … for the money laundering scheme," D&A claims, further alleging that the accounts showed an average account value of nearly $6.8 million between March 2014 and December 2015." (13)
"… Just hours after Burisma's announcement that Biden and Archer had joined the board" of the Ukrainian company, Heinz emailed his step-father and then-Secretary of State John Kerry's top aides and alerted them… "Apparently Devon and Hunter both joined the board of Burisma and a press release went out today," Heinz said. "I can't speak why they decided to, but there was no investment by our firm in their company." (10)
Heinz made moves to sever his formal business ties with Archer and Biden in May 2014. At about that same time, according to a court brief, Attorney Timothy Anderson "informed Raines that he would be representing the Galanis's and their companies in the bond transaction, and not his former client WLCC. As a result, Raines needed to find separate counsel to represent WLCC." (12)
"Heather Dawn Thompson ("Thompson") was a partner with Greenberg & Traurig," (3) the same firm that had hired disgraced con-man Jack Abramoff to lobby for tribal governments. She was affiliated with Greenberg's Denver office, but lived "in South Dakota near or on the Oglala Sioux's Pine Ridge Reservation," (12) serving as Greenberg's "primary client relationship attorney for the bond transaction." (12) Thompson dated Raines, "WLCC's CEO, at the time Greenberg represented WLCC in the Wakpamni bond transactions," and they have since married. (12)
The Greenberg's partners that assisted Thompson were Michael McGinnis and Jennifer Weddle. "McGinnis is an experienced bond lawyer and member of the National Association of Bond Lawyers." (12) Because Raine had previously been accused of predatory lending, Anderson feared that would bring bad publicity to the bond transaction. So he "drafted two resolutions of support commending Raines' business practices which were sent to Raines and Thompson via email, to be signed by the leadership of the Wakpamni District and the Oglala Sioux Tribe. Anderson allegedly stated, "Raycen – this is what I had in mind and will go a long way in calming everyone down and keeping these projects on track," (12)
Unfortunately, instead, on June 24, 2014, "the OST's Tribal Council passed a resolution stripping Raines of authority to act with respect to tribal economic development matters, including 'Tribal Economic Development (TED) Bonds,' but also 'any other economic development projects.' …The resolution specifically noted that Raines had exerted undue influence over OST's then-president to gain support for economic development projects." (12)
A subsequent lawsuit by the Chicago Transit authority states that "neither Greenberg nor Dilworth disclosed to the bondholders or the Indenture trustee, U.S. Bank, that OST had passed a resolution stripping Raines of authority to issue TED bonds." (12) "The lawsuit also alleges that Greenberg mislead RHCT and other investors by indicating the Oglala Sioux Tribe had issued the bonds and were therefore secure." (12)
"The court documents also cite a deposition given by Raycen Raines" that he had "met with John Galanis in the early days of the scheme in 2014." (22) "Raines, who was not accused of wrongdoing in the investigation, said in a deposition that he heard "more than once or twice" that Archer was Hunter Biden's business partner. Raines also said that John Galanis "did in fact boast about Mr. Archer and Mr. Biden's involvement." ." (22)
On Tuesday June 24, 2014, " the Oglala Sioux Tribal Council suspended Tribal President Bryan Brewer in part due to Brewer's dealings with Raycen Raines." (8) "After voting to suspend Brewer, the council approved a resolution stating that Brewer didn't have authority to allow Raycen Raines to act on the tribe's behalf in federal matters. The resolution did not spell out the details." (8) But Raines, who now owned "the Lakota Ways cultural center based in Wall, says he hasn't done anything wrong and that the suspension of Brewer is retaliation by… the tribe's economic development officials." (8)
"Raines, who describes Lakota Ways as the largest private employer on the reservation, says the plan with the bonds and the related forming of a holding company" was to "start five manufacturing businesses and create as many as 500 jobs." (8) "The quarrel, according to Raines, comes from attempts by him and Brewer to obtain federal money known as Tribal Economic Development bonds…, which are administered by the Internal Revenue Service." (8) "…but that his work did not constitute official tribal action." (8) ""We were exploring to see if our tribe will get them," Raines said, "All we're trying to do is create something our tribe should have had 50 years ago," he said." (8) Councilman Garfield Steele disagreed, stating that "the resolution mentioning Raines was not about retaliation. It was about questioning Raines' authority to act on the tribe's behalf." (8)
"These minutes are dated August 21, 2014, just about the same time the Indian Tribe made their first bond offering, which was purchased in its entirety by an investment advisory business that Archer and Galanis had acquired for that very purpose." (11)
"These minutes do not provide a complete picture of the nature of the transaction. But the Trustees expressed concerns — which Archer tried to respond to — regarding the post -acquisition structure and control of BAM if the Trust were to sell. One subject mentioned in a few places in the minutes is the possible involvement — and role — of a gentleman named Jason Sugarman. The Trustees seemed suspicious of the nature of Sugarman's involvement and seemed to be seeking assurances and answers from Archer on the question of who would really be controlling BAM — Archer or Sugarman." (11)
"Jason Sugarman is a Los Angeles businessman and investor who holds minority ownership interests in the Golden State Warriors, Los Angeles FC MLS soccer franchise, and the Oklahoma City Dodgers — the AAA Minor League franchise team of the Los Angeles Dodgers." (11)
"But more importantly for Archer and Galanis, Sugarman was part owner and had control of an insurance company, Valor Group Ltd. ("VGL"), a Bermuda-based insurance conglomerate. He was also Director and an indirect owner of then-SEC-registered broker-dealer and investment adviser Burnham Securities." (11)
"Basically, in the early days of trying to put together their "roll up", when Galanis and Archer needed capital to fund their acquisition of various businesses to make the fraud scheme work, they turned to Sugarman for the money to make those acquisitions." (11)
"Archer and Galanis purchased Hughes Capital Management LLC, in August 2014, which they then used to buy the first $28 million in Indian Tribe bonds. Sugarman provided the funding to purchase a controlling interest in Hughes. A year later, in preparation for purchasing the third set of bonds, Sugarman assisted in financing the purchase of Atlantic Asset Management LLC, which purchased the third set of bonds for $16 million." (11)
"Archer had convinced the Burnham Trust to sell Burnham Financial Services, which was the parent company of both Burnham Asset Management and Burnham Securities — and Sugarman had funded those acquisitions as well, which is why the SEC called him an "indirect owner". For whatever reason, the Trustees had been concerned about that outcome. Archer convinced them it would not be the case as is reflected in the minutes of that meeting, yet that is what eventually came to happen." (11)
"It was Sugarman's insurance company that was supposed to issue the annuities that were going to be purchased with the proceeds from the bond sale, but were instead diverted to individuals involved in the fraud scheme. A significant amount of the money made its way to Sugarman." (11)
"Sugarman was close with Galanis. Various people involved in the scheme told SEC investigators that the group referred to them as "The two Jasons", and viewed them as 50-50 partners in everything that happened with the Indian Tribe bond scheme. They were in regular communication as the deal came together, and even had paperwork prior to the deal being formalized laying out where they would divert the proceeds from the bond sales." (11)
"Jason Sugarman, in addition to being an LA-based entrepreneur, investor, and businessman, is also the husband of Elizabeth Guber." (11) "Elizabeth Guber is the daughter of Hollywood …Producer Peter Guber, who along with his former partner, Barbara Streisand paramour Jon Peters, produced such Hollywood hits as The Color Purple, Flashdance, Rain Man, Batman, Witches of Eastwick, Midnight Express, and at least a dozen more box office hits and Hollywood awards winners." (11)
Remember, Archer was a "bundler of campaign contributions for Democrat party candidates." (11) Hollywood has been a strong financial backer of both President Obama and Vice President Biden.
Bevan Cooney, a close friend of Jason Galanis, shared a "financial interest in The Viper Room in Hollywood." (11) Sugarman introduces Galanis to Archer "and they start planning the formation of a financial services conglomerate…" (11)
"…the minutes of the Burnham Trustee meeting refer to $200 million received for investment purposes by Archer from the wife of the former mayor of Moscow, which confirms the claim made by Senators Johnson and Grassley about Hunter Biden getting money from her — a Russian Government official." (11)
It has been said that if guns are outlawed, only the out-laws will have guns. Well, if, as those on the left demand, capitalism is outlawed, only the out-laws will have capital.
In a 2014 lawsuit filed by the WLCC against Arlene Catches the Enemy for libelous statements, Catches the Enemy, "exposes some of the inner workings of the payday loan site" – including "excessive interest to customers" that "has been labeled predatory by experts." Raines defends his interest rates by asserting that he does not lend to tribal members or residents of South Dakota. (1)

The company charges "an annual percentage rate of 782.00% and a daily interest rate of just more than .021%, meaning that if an individual borrowed $25.71 they would be required to pay back $325.71 if they miss the first scheduled payment that is due two weeks after a loan is taken out." The company has also "received an F rating from the Better Business Bureau" due to complaints against it. (1)
According to Lone Hill, members of the WLCC traveled to the 2014 Reservation Economic Summit (RES2014) in Las Vegas. (19) Because they did not actually represent the tribe, they had little capital, no land base and no collateral. Many individual tribal members have no land title to leverage for investment and loans from banks because the federal government holds their land captive in a "trust."
When the WLCC came across John Galanis pitching his bond scheme, they stopped to listen. (19) "Lone Hill said Galanis was representing Burnham Securities, a firm they believed to be well-established and reputable." (19)
"… in March of 2014 while at the RES2014 conference, Raycen Raines, CEO of the WLCC invited former WLCC attorney Timothy Anderson to attend a meeting with John Galanis to discuss a proposal for the bond offering." (19) ""During the meeting, John Galanis explained his proposal to have WLCC issue debt in the form of bonds. Unlike other municipal bonds, the vast majority of the bond proceeds under Galanis's plan would be invested in an annuity contract with an offshore insurance company. The revenues from the annuity contract would then be used to pay the principal and interest payments due on the bonds (i.e., the debt service)." ." (19)
"… if the plan had worked it would have generated "free money" for WLCC and that the annuity concept was "novel" and "something new." (19)
"According to Lone Hill the money generated would have given the Wakpamni District ample capital to invest in a warehouse where they could ship goods they had produced locally, a laundromat, a bakery, a community building for Bingo and community events, a tutoring facility to teach Lakota language and entrepreneurial skills, an incubator for business start-ups, a sewing center and a bowling alley." (19)
The Biden group continued their "roll up." A May, 2014, email from Burisma executive Vadym Pozharskyi sought Hunter's "advice on how you [Hunter] could use your influence" on behalf of Burisma." (27) In November 4, 2014, email, Jason Galanis discussed a draft pitch for investors explaining investor protections. He also wanted to stress their connection to Joe Biden: "I wanted to focus on the 'other currency' we are bringing to the table…direct administration pipeline." Galanis also mentioned dropping Joe Biden's connections in their pitch when dealing with union pension funds. Galanis wrote, "maybe we should also remind of HB's dad's union relationships to justify the ask??" (10)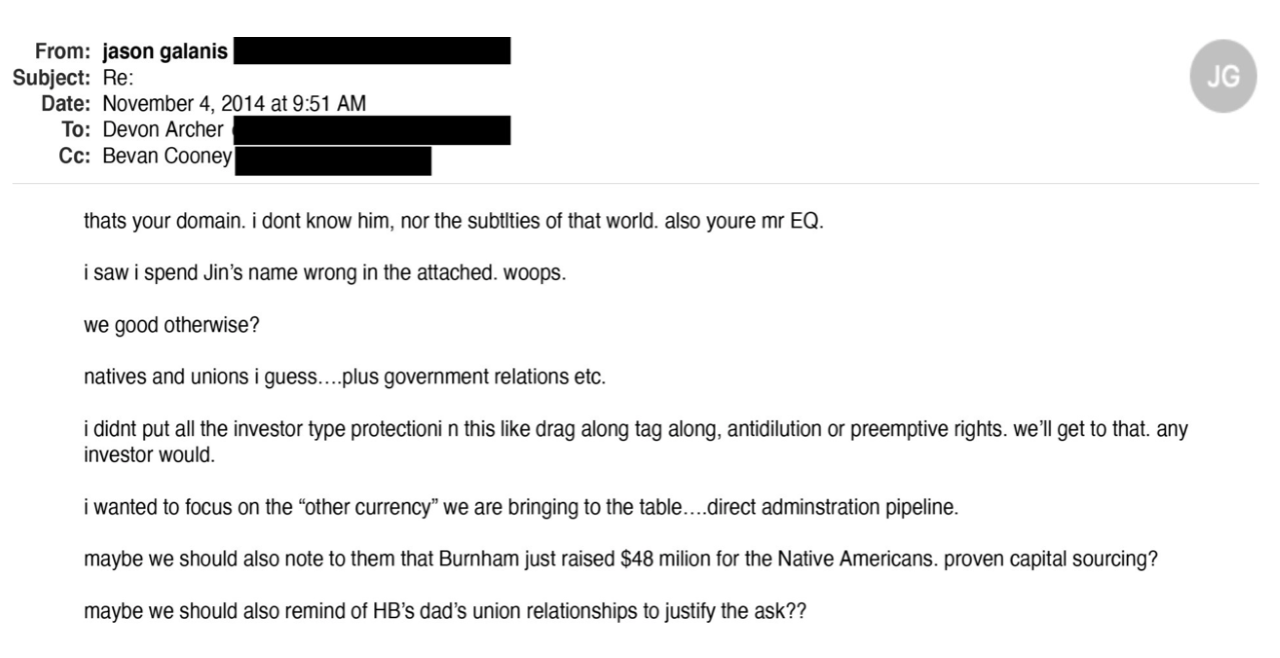 The Indian Industry is lucrative business with many prominent people making their living off of it.
For example one of the named partners of Raycen Raines not often mentioned is Dennis Ickes, who advertised himself as a consultant and advisor in the "Indian Reorganization Act Section 17." His promotional material states that "Dennis Ickes of Native 17 developed the intellectual property that engineered the first acquisition by a tribe using a unique IRA leverage strategy. Decades of experience as a highly ranked federal official, tribal lawyer, and businessman enabled Mr. Ickes to coalesce the tribe, investors, and the target business into a 100% tribally owned multimillion dollar business." (4) He also states that he has …perfected a financing concept for tribes that appeals to private capital to fund tribal economic development that preserves the natural qualities of the land, water and air while producing revenue, jobs, and business opportunities." (4) Interestingly, he claims his "Concept is the result of his 40 years" of "service as deputy undersecretary of the Interior, as general and special counsel to tribes, as advisor to businesses doing business with tribes, and upon his volunteer community service to Indian communities," along with his "experiences as the co-founder of the Office of Indian Rights in the US Department of Justice." (4) […It is very disturbing to read that a bureaucrat can "found" an office prone to partiality within the Department of Justice. One can begin to see the red flags – the creation of vehicles for avoiding taxes and regulation under the pretense of civil rights. There is definitely an element of partiality, if not partisanship, within the Office of Tribal Justice in DC.]
Also noted in Ickes resume is his lobbying of "the BIA, the IRS, HUD, and other federal agencies, financial institutions, investors, sellers of businesses, managers, operators, key employees, major business and tax law firms, and the like" and his hand in the now bankrupt tribally-owned "Wall Street financial services company." (4)
Heather Dawn Thompson, the woman who did legal work concerning the tribal bonds and married Raines, has since taken a lead management role in a Tribal Opportunity Zones Venture Group
An announcement states that "Ms. Thompson is a nationally recognized Native American lawyer, leader, and Indian Country economic development expert, and is an enrolled member of the Cheyenne River Sioux Nation." It is important to note that she has worked within Abramoff's "Indian Law Practice of Greenberg & Traurig," (3)
Thompson was also an Assistant U.S. Attorney for the South Dakota U.S. Attorney's Office and the Director of Government Affairs for the National Congress of American Indians (NCAI), the nation's oldest and largest intertribal organization. She has also served as a Policy Advisor for Judiciary and Indian Affairs to various US Senators. (3)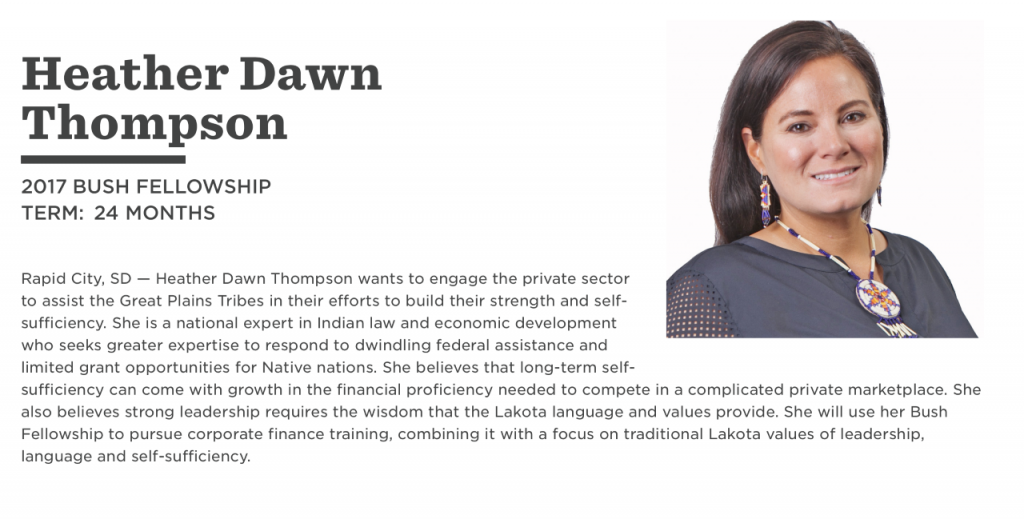 2015
"In a March 2015 draft investor pitch, Biden's associates wrote about the need to "leverage Hunter Biden's Taft Hartley network" – referring to "the law governing union pension funds," and Joe Biden's history of relationship "with union bosses." It was noted that "Archer and Biden" would bring "unprecedented opportunity for a firm at our scale," and referenced obtaining additional finances from Chinese officials using family clout. In a section outlining where investments would come from, Biden's associates described capital flowing from "China>USA" and "Former CCP [Chinese Communist Party]>USA." (10)
An April 17, 2015 email of "gratitude from Burisma executive Vadym Pozharskyi " stated, "Dear Hunter, thank you for inviting me to DC and giving an opportunity to meet your father and spent [sic] some time together. It's realty [sic] an honor and pleasure." One email referred to Joe Biden as "the big guy" who will "get ten percent of a business deal worth millions," and another mentioned him as "being involved in a meeting with Burisma executives, the same Burisma that paid [Hunter] $83,000 a month to sit on its Board." (27)
"When WLCC received an initial payment of $2,250,000, which was held in trust by U.S. Bank, Lone Hill said the community broke ground on construction of their warehouse." (19)
"However when the rest of money they were promised failed to deliver, community members became suspicious and began an investigation, Lone Hill said. What they uncovered would send shockwaves all the way to the White House. "On the surface everything was completely legit. It was so sophisticated," said an attorney for WLCC. "When you're on the outside looking in, it all looked completely legit." ." (19)
After the members of the community gathered evidence in what they believed was a scam, Lone Hill said they turned over what they uncovered to the U.S. Attorney's Office." (19)
2016
May 2016 – After the Oglala Sioux Tribe was defrauded "out of more than $64 million as part of a phony bond scheme engineered by Devon Archer and Jason Galanis, among others," (11) a federal securities fraud prosecution was begun.
On May 11, 2016 – The Securities and Exchange Commission formally charged a father and son and five associates with "defrauding investors in sham Native American tribal bonds in order to steal millions of dollars in proceeds for their own extravagant expenses and criminal defense costs." (29) In its statement, the SEC "alleges that Jason Galanis, whose checkered past dates from an accounting fraud case during his days as a major Penthouse shareholder to stock fraud charges last year, conducted the scheme in which the "primary objective is to get us a source of discretionary liquidity," he wrote in an e-mail to other participants. Galanis and his father John Galanis convinced a Native American tribal corporation affiliated with the Wakpamni District of the Oglala Sioux Nation to issue limited recourse bonds that the father-and-son duo had already structured. Galanis then acquired two investment advisory firms and installed officers to arrange the purchase of $43 million in bonds using clients' funds." (29)
"The SEC further alleges that instead of investing bond proceeds as promised in annuities to benefit the tribal corporation and generate sufficient income to repay bondholders, the money wound up in a bank account in Florida belonging to a company controlled by Jason Galanis and his associates. Among their alleged misuses of the misappropriated funds were luxury purchases at such retailers as Valentino, Yves Saint Laurent, Barneys, Prada, and Gucci. Investor money also was diverted to pay attorneys representing Jason and John Galanis in a criminal case brought parallel to the SEC's stock fraud charges last year." (29)
"'We allege that Jason Galanis and his associates embarked upon a brazen and complex scheme in cold and calculated fashion to steal millions of dollars from unwitting investors,' said Andrew M. Calamari, Regional Director of the SEC's New York office. 'Galanis persisted in this alleged scheme even after he was arrested by criminal authorities and charged by the SEC in a different case'." (29)
"In addition to Jason and John Galanis, the SEC's complaint names Devon Archer of Brooklyn, N.Y., Bevan Cooney of Incline Village, Nev., Hugh Dunkerley of Huntington Beach, Calif. and Paris, France, Gary Hirst of Lake Mary, Fla., and Michelle Morton of Colonia, N.J. They're charged with violations of the antifraud provisions of the federal securities laws and related rules. The SEC seeks disgorgement plus interest and penalties as well as permanent injunctions. The SEC also seeks officer-and-director bars against Jason Galanis, Archer, Dunkerley, and Morton." (29)
"In a parallel action, the U.S. Attorney's Office for the Southern District of New York today announced criminal charges against the same seven individuals." (29) – May 11, 2016 – Seven Defendants Charged In Manhattan Federal Court With Defrauding A Native American Tribe And Investors Of Over $60 Million. (15) and "Federal prosecutors in Manhattan filed charges …in the against seven individuals, including Galanis, Cooney and Archer." (22)
"Jason Galanis and Hugh Dunkerley were arrested in the central district of California. … Gary Hirst was arrested in the middle district of Florida … John Galanis, a/k/a "Yanni," was arrested in the southern district of California…. Bevan Cooney was arrested in the district of Nevada… Devon Archer was arrested in the eastern district of New York…[and] Michelle Morton was arrested in New Jersey." (15) "…The alleged fraudsters named in this case didn't just see an opportunity to steal money when they thought no one was looking, they allegedly hatched a plan to scam a municipal entity from the start. The most egregious fallout from this scheme is that the bondholders now hold worthless securities, and the tribe can't make the interest payments due." (15)
In their report, the SEC claims "Galanis and his father, John Galanis," master-minded and managed almost the entire process (18). It is interesting to note who of co- conspirators the SEC chose to place primary blame on, and the hoops they must have gone through to protect the more prestigious of the criminal group.
In a September 24, 2020, filing, it was stated that "From March 2014 through April 2016, Galanis, along with his co-conspirators Gary Hirst, John Galanis, a/k/a "Yanni," Hugh Dunkerley, Michelle Morton, Devon Archer, and Bevan Cooney, engaged in a fraudulent scheme to misappropriate the proceeds of bonds issued by the Wakpamni Lake Community Corporation ("WLCC"), a Native American tribal entity (the "Tribal Bonds"), and to use funds in the accounts of clients of asset management firms controlled by Galanis and his codefendants to purchase the Tribal Bonds, which the clients were then unable to redeem or sell because the bonds were illiquid and lacked a ready secondary market." (20)
"Specifically, the proceeds of the Tribal Bonds were deposited into a bank account in the name of Wealth Assurance Private Client Corporation ("WAPCC"), an entity controlled by Dunkerley and Hirst. Dunkerley transferred more than $38 million from the WAPCC account to an account controlled by Galanis, who then misappropriated more than $8.5 million of the proceeds for his personal use, including for expenses associated with his home, jewelry and clothing purchases, travel and entertainment, and restaurant meals." (20)
After a lengthy explanation of the lack of a secondary market for the Tribal Bonds, the suit notes that "a portion of the misappropriated proceeds was recycled and provided by Galanis to entities affiliated with Archer and Cooney in order to enable Archer and Cooney to purchase subsequent Tribal Bonds issued by the WLCC. As a result of the use of recycled proceeds to purchase additional issuances of Tribal Bonds, the face amount of Tribal Bonds outstanding increased and the amount of interest payable by the WLCC increased, but the actual bond proceeds available for investment on behalf of the WLCC did not increase." (20)
Also mentioned in their scheme was other management companies, including Morton – Hughes Capital Management, Inc. ("Hughes") and Atlantic Asset Management, LLC ("Atlantic") – that were used to purchase the Tribal Bonds, even though the defendants were aware that "material facts about the Tribal Bonds had been withheld from clients in whose accounts they were placed, including the fact that the Tribal Bond purchases fell outside the investment parameters of certain Hughes clients and of the Atlantic investment vehicle in which the Tribal Bonds were placed. In addition, those defendants failed to apprise the Hughes and Atlantic clients of substantial conflicts of interest relating to the defendants – including that Hirst and Dunkerley were on multiple sides of the deal with respect to the issuance and placement of the Tribal Bonds. When Hughes and Atlantic clients learned about the purchase of the Tribal Bonds, several of them demanded that the Tribal Bonds be sold. However, because there was no ready secondary market for the Tribal Bonds, the Tribal Bonds remain in their accounts." (15)
These May 2016 charges "were brought in connection with the President's Financial Fraud Enforcement Task Force," which conveniently left the Vice President's son totally out of the picture. (15)
Galanis pled guilty to the indictments by the Southern District of New York, while "Archer and Cooney took the case to trial and were convicted by a jury. Archer's conviction was initially set aside by the trial court judge, but it was reinstated by the Second Circuit Court of Appeals." (11)
2017
A May 13, 2017, email found on a laptop abandoned by Hunter Biden in 2020 refers to "the big guy." There is much speculation as to who that "big guy" might be.
In October 2020, another of Hunter Biden's business partner, Tony Bobulinski, came forward with emails confirming the participation of both Hunter and Joe Biden. Bobulinski stated that the "big guy" referenced in one particular email was Joe Biden, the current Democratic presidential nominee." (17)
"Joe Biden left the White House four months prior to the date of the email after serving as the vice president for eight years. "What I am outlining is fact. I know it is fact because I lived it," Bobulinski wrote in a statement to The Epoch Times from the same email address as the one listed in the May 13, 2017, email." (17)
Bobulinski explained, "I am the CEO of Sinohawk Holdings, which was a partnership between the Chinese operating through CEFC/Chairman Ye [Jianming] and the Biden family. I was brought into the company to be the CEO by James Gilliar and Hunter Biden. The reference to 'the Big Guy' in the much publicized May 13, 2017 email is in fact a reference to Joe Biden. The other 'Jim' referenced in that email is Jim Biden, Joe's brother." (17) "The email published by the Post details "remuneration packages" for several Hunter Biden associates, including "850" for Hunter Biden and "500,000" for "Jim." (17)
"The message, written by Hunter Biden associate James Gilliar on May 13, 2017, goes on to detail "a provisional agreement that the equity be distributed as follows: ." (17)
20 H
20 RW
20JG
20 TB
10 Jim
10 held by H for the big guy?"
"According to a corporate filing with the Delaware Secretary of State, Sinohawk Holdings LLC was formed on May 15, 2017, two days after the email in question." (17)
"Bobulinski said he doesn't have a "political axe to grind" and that the few political donations he made went to Democrats. A search of the Federal Election Commission database corroborates this." (17) "Several documents, obtained by Fox News, show Bobulinksi discussing a meeting with Joe Biden in May 2017, despite past claims from the former vice president that he did not talk about his son's business dealings." (24)
"The messages seem to indicate that a meeting took place, though it's unclear what the substance of the meeting may have been. They are unrelated to the laptop or hard drive purportedly belonging to Hunter Biden, the former vice president's son." (24)
""Mrng plse let me knw if we will do early dinner w your Uncle & dad and where, also for document translation do you want it simple Chinese or traditional?" Bobulinski texted Hunter Biden on May 2, 2017…."Not sure on dinner yet and whatever is the most common for a Chinese legal DOC," Hunter Biden replied. …"Chinese legal docs can be both, i'll make it traditional," Bobulinski said. Hunter replied: "Dad not in now until 11- let's me I and Jim meet at 10 at Beverly Hilton where he's staying." ." (24)
"Bobulinski sent a text to Jim Biden on the same day, May 2, 2017, saying: "Great to meet u and spend some time together, please thank Joe for his time, was great to talk thx Tony b." (24)
"Since his father left office, Hunter has cultivated a relationship with the Chinese billionaire Ye Jianming. Hunter told The New Yorker the pair had partnered on a natural gas venture in Louisiana and that Ye had once gifted him a large diamond." (25)
"Hunter also dealt with Ye's deputy, Patrick Ho. In November 2017, federal agents in New York arrested Ho on suspicion of bribing government officials in Chad and Uganda. Ho's first call, according to The New York Times, was to James Biden, who told the paper Ho had been trying to reach Hunter." (25) "Ho was convicted on seven counts in December. Ye has disappeared from public view, and his name has surfaced in a corruption case in China." (25)
"In a separate alleged email Hunter Biden sent to Hong Kong financier Dong Gongwen on Aug. 2, 2017, Biden reveals that he previously had a three-year agreement with CEFC that would pay him $10 million per year "for introductions alone.' ." (17) "Dong was Ye's business associate and executed transactions for Ye's companies, according to a recent Senate report." (17) "Ye later sweetened the deal, giving Biden 50 percent ownership of a holding company named "Hudson West," with Ye owning the other half, the email stated." (17)
""Biden family aggressively leveraged the Biden family name to make millions of dollars from foreign entities even though some were from communist-controlled China," Bobulinski said." (17) "Bobulinski said he eventually became aware that the Chinese counterparts in the deal were interested in exerting political influence rather than reaping financial rewards. He said he took steps to prevent Hunter Biden from using the company account as a "piggy bank." ." (17)
2018
"Shanghai-based conglomerate CEFC China Energy was China's largest privately-held oil company before it was caught in Beijing's crosshairs in 2018. The oil conglomerate made billions of dollars in Russia, eastern Europe, and parts of Africa, while its now-disgraced founder and chairman Ye Jianming fostered ties with high-level Chinese Communist Party (CCP) officials." (17)
"Ye has been missing since early 2018 after he was placed under investigation by the Chinese regime for "suspected economic crimes" and detained. A state-owned enterprise took control of CEFC in March 2019, and the firm declared bankruptcy" early in 2020, "according to Chinese media Caixin." (17)
Galanis and Cooney "were found guilty for their roles in June 2018, following a lengthy trial in Manhattan federal court." (13) The jury also "convicted Archer on June 28, 2018 on conspiracy and securities fraud charges, but Judge Ronnie Abrams overturned the conviction on Nov. 15, 2018, saying that there was insufficient evidence to show that Archer was aware of the bond fraud." (22)
2019
New York did not charge Jason Sugarman, despite his role in bond scheme. However, the SEC filed a civil enforcement action against him in 2019. The allegations detail his role." (11)
In May of 2019, "The Intercept reported that Hunter's Chinese investment vehicle, Bohai Harvest RST, was invested in a firm that developed facial-recognition technology used in Chinese state-backed surveillance efforts." (25)
Important to note:
Court documents show that participants in a multi-million securities fraud scheme touted links to "politically connected" Hunter Biden. ." (22)
The documents, which have not been previously reported, are part of a case involving a $60 million fraud against the Wakpamni Lake Community Association, an affiliate of the Oglala Sioux Tribe. ." (22)
Text messages and phone call recordings show participants in the scheme bragging about their access to Biden…" (22)
"Participants in a multi-million dollar scheme to defraud an American Indian tribe touted links to Hunter Biden and his business associate, Devon Archer, according to court documents the Daily Caller News Foundation reviewed." (22) At the very least, this shows how his associates perceived his role while his father served as vice president." (22)
Bevan Cooney had stated, "Hunter Biden works for [Archer]. So we've got the top level politicos with us. All of my guys, is as top tier as it gets" (22)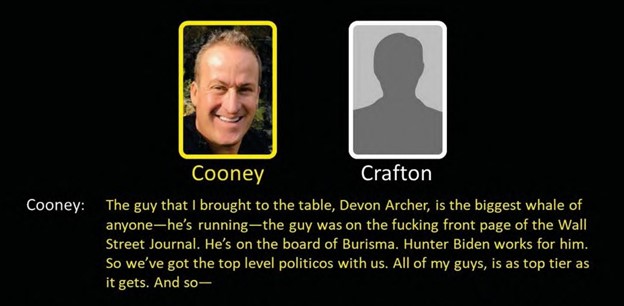 "This image is from an exhibit Devon Archer submitted in an appellate court case, June 26, 2019." (22)

"This image is from an exhibit Devon Archer submitted in an appellate court case, June 26, 2019." (22)
"Financial documents released in the Archer case show that Burisma Holdings made bimonthly payments of $83,333 to Rosemont Seneca Bohai." (22) "Hunter Biden acknowledged in an interview that aired Tuesday that he has benefited from his father's political positions." (22) "I think that it is impossible for me to be on any of the boards … without saying that I'm the son of the vice president of the United States," Hunter Biden told an ABC News correspondent." (22)
When the reporter asked, "If your last name wasn't Biden do you think you would have been asked to be on the board of Burisma?" (22) Biden responded, "I don't know. Probably not. I don't think that there's a lot of things that would have happened in my life if my last name wasn't Biden." (22)
According to the Wall Street Journal, Hunter Biden's name was "invoked as a selling point in bond transactions" (23)
On October 18, 2019, in the Circuit Court of Cook County, Illinois, a lawsuit was also filed by the Chicago Transit Authority Retiree Health Care Trust and the Board of Trustees for the …(RCHT) to recoup their loss to the bond scheme. The defendants of this suit were the firms "Dilworth Paxson, LLP; Timothy Anderson; and Greenberg Traurig, LLP." (12) According to the brief the "lawsuit arises from the Defendants' participation in, and assistance with, the issuance of $43 million in worthless bonds (the "Bonds") to unwitting public pension funds, including RHCT. The Bonds were not part of a legitimate public finance project, but rather a criminal scheme to enrich several individuals connected to the Defendants, including well­ known fraudster, John Galanis, his son, Jason Galanis (collectively, the "Galanises"), and fly­ by-night tribal financiers, Steven Haynes and Raycen Raines, the latter allegedly was romantically involved with the Greenberg partner [Heather Dawn Thompson] representing the issuer during the transaction.." (12)
An excerpt:
"1. This lawsuit arises from the Defendants' participation in, and assistance with, the issuance of $43 million in worthless bonds (the "Bonds") to unwitting public pension funds, including RHCT. The Bonds were not part of a legitimate public finance project, but rather a criminal scheme to enrich several individuals connected to the Defendants, including well-known fraudster, John Galanis, his son, Jason Galanis (collectively, the "Galanises"), and fly-by-night tribal financiers, Steven Haynes and Raycen Raines, the latter of whom was romantically involved with the Greenberg partner representing the issuer during the transaction." (9)
"2. The fraud, which was concealed from the bondholders until May of 2016, involved the use of bond proceeds to purchase an annuity contract with a fictious offshore entity, which is unheard of in legitimate municipal finance transactions. Only a fraction of the bond proceeds were paid to the issuer, while the majority of funds were instead wired to the offshore annuity. Not surprisingly, the annuity company turned out to be fake, allowing the Galanises and their friends to steal almost $40 million in retirement funds from a variety of public pension funds, including those serving public school teachers, sanitary workers, and in RHCT's case, retired CTA employees and their dependents." (9)
"3. The bonds have been the subject of criminal, SEC and civil litigation in various jurisdictions throughout the country. In its wake, several individuals have pleaded or been found guilty of criminal charges, and multiple investment companies have been forced out of business." (9)
"4. None of this would have occurred without the Defendants' assistance. As more fully alleged herein, the Defendants–national law firms with supposedly sophisticated municipal finance practices–both served as bond counsel in the transaction, assisting not only their "clients," but several other parties in carrying out what reasonably prudent lawyers would have recognized to be an obvious financial crime." (9)
"5. In addition to preparing transaction documents and supervising the bond issuance. the Defendants authored misleading opinion letters containing statements inconsistent with facts of which they were aware, and which failed to disclose material facts that would have prevented the transaction from closing. Through their opinion letters, the Defendants gave the transaction the appearance of legitimacy necessary for the bonds to issue. Defendants received hundreds of thousands of dollars in stolen retirement funds as payment for their assistance with the issuance." (9)
"6. Through their conduct, and in disregard of the duties they owed foreseeable victims like the bondholders, the Defendants directly and proximately caused RHCT in excess of $6,000,000 in losses, which RHCT seeks to recover in this case." (9)
"…65. Raines served as WLCC's primary business representative and contact for the Wakpamni bond transaction. However, the tribal resolution stripping Raines of authority over tribal economic development matters was never disclosed to the bondholders or the Indenture trustee, U.S. Bank, by Greenberg or Dilworth during the transaction." (9)
Private-eye firm claims Hunter Biden is linked to multiple criminal probes: Documents filed in Hunter Biden's paternity case show he is the subject of multiple criminal investigations related to "fraud, money laundering and a counterfeiting scheme." (13)
"Biden, 49, "is the subject of more than one criminal investigation involving fraud, money laundering and a counterfeiting scheme," the filing alleges. One of those purported investigations relates to Burisma Holdings, the Ukrainian energy company with which Biden held a lucrative board post while his father, Joe, was vice president," (13) as well as allegations that "Biden had a hand in a plot including Galanis, Cooney and Archer to rip off Sioux Native Americans to the tune of $60 million through the shady sale of tribal bonds. …"Biden "did drum up business for the scheme." (13)
2020
The Native Sun News reported in January, 2020, that the fifth count of the Chicago transit case alleged "that on the First Offering as bond council, Greenberg owed RHCT and the other investors a duty of care in preparing the offering documents and opinion letters and had an obligation to decline representation that is known or suspected to be fraudulent or criminal in nature and that it was their obligation to withdraw from council." (12) "The suit alleges that Greenberg breached its duties to RHCT" by either:
• Making false or misleading statements in the opinion letter about the annuity, source of funds, and use of funds for the Bonds;
• Failing to investigate the annuity on which the opinion was based;
• Making false or misleading statements about the economic development projects backing the Bonds; and
• In general, issuing an opinion letter on the validity and enforceability of a bond transaction that a reasonably prudent bond lawyer knew or should have known was a securities fraud or financial crime. ." (12)
February 2020
"The U.S. Attorney's office took their claims seriously and began an investigation. However the scam turned out to be so sophisticated even the U.S. Attorney's office had difficulty figuring it all out" and it took them several years to complete the prosecutions. (19) Likely it also took time to figure out what to do about Biden.
Greenberg Traurig issued a statement concerning the lawsuit, stating, "The fraud perpetuated against WLCC was a tragedy for all. WLCC was a victim of the fraud and its attorneys did not assist the fraud in any way. That is shown by the fact that neither WLCC or its attorneys were charged in the criminal proceedings against the wrong doers who have pleaded guilty." (19)
Unfortunately, the lack of action by authorities does not translate to innocence. Further, at this point in American history, the lack of action by authorities only causes the public more suspicion.
In August 2020, Chicago Transit and Greenberg Traurig's LLP resolved the lawsuit. (26) A Greenberg Traurig spokesperson stated, 'We have always denied the allegations against our firm in this situation, and are pleased to put them behind us and to spare us further cost." 26) The fund had sued Dilworth Paxson, its former attorney Timothy Anderson and Greenberg Traurig in state court in 2019, claiming that they had helped a "well-known fraudster" and "fly-by-night tribal Flanders" pull off "what reasonably prudent lawyers would have recognized to be an obvious financial crime.' The case was later removed to federal court." (26)

In September 2020, Jason Galanis was Sentenced to 189 months in prison for his participation in multiple fraudulent schemes. He was also ordered to make restitution of $80,817,513.43." (20) Concerning the tribal bond scheme,
Concerning the companies owned by Hunter Biden and his associates, an October 2 intelligence report "details the relationship between multiple Chinese State-Owned Entities (SOE's) and companies" owned by Hunter Biden, Chris, Devon Archer, James Bulger, and "suspected Chinese intelligence asset Michael Lin. Despite what Hunter Biden's attorney claimed in 2019, Hunter started traveling to China shortly before 'the Big Guy' became Vice President and signed contracts with SOE's while the Big Guy was Vice President." (21)
It seems that "… Hunter Biden followed his partner, Devon Archer, into bed with some unabashed Wall Street fraud merchants. No ifs, ands, or buts — Hunter Biden laid down with dogs and now he's got fleas." (28)
Undeniable proof is said to be available. "After the release last week of emails from Hunter Biden's laptop exposing some of the business schemes he's been involved in, a person convicted in the Indian Tribe bond fraud, Bevan Cooney, has now made available approximately 26,000 emails in his Gmail account, suggesting there are documents there that implicate Hunter Biden in the Indian bond fraud scheme — and probably a lot more." (28) "Cooney has released the emails because he claims that Hunter Biden improperly escaped accountability and responsibility for his role in the fraud for which seven other people have gone to prison." (28)
"The "30,000-foot view" of the bond fraud scheme is that a group of white-collar "fraudsters" with a long track record of dubious and illegal financial dealings, pitched a proposal to the Wakpamni Lake Community Corporation of the Oglala Sioux Tribe, in Pine Ridge, South Dakota, to issue a series of tax-free tribal bonds to raise money for improvements and public works projects on Tribal land in South Dakota The fraudsters claimed they would take the proceeds from the bond sales and purchase annuities with a reputable insurance company. The revenue from the annuities would pay the interest on the bonds to the investors, and the excess revenue would be used to fund projects on the Tribal land." (28)
"What happened instead was that, through a series of fraudulent acts and sham transactions, after the Tribe issued three sets of bonds with an aggregate total value of $64 million, none of the proceeds from the sales of the bonds were used to purchase annuities as promised. Only the first interest payment to investors was made — with money obtained from another source — and a sizeable amount of the $64 million was spent by the promoters on themselves, as well as being used in other business operations with which they were involved." (28)
TIMELINE
The timeline of the Pine Ridge scheme: (28)
In Las Vegas in March 2014, Jason and John Galanis met tribal members who ran a payday loan company. The Galanis sold them on the idea of issuing bonds.
The Galanis contact Sugarman and discuss diverting the funds. Archer knew about this.
The first bonds are sold in August 2014, "with revenue from the sale totaling $28 million." (28)
The second set of bonds are sold in September 2014, "with revenue from the sale totaling $20 million. The purchase of the second set is made with $20 million taken from the $28 million sitting in a bank account. Archer takes "ownership" of one-half of the second set of bonds, and lists them as assets of Rosemont Seneca Bohai, LLC, a real estate investment company that is funded with money from a Chinese investment company partner. At this point, it seems that Rosemont Seneca Bohai has Archer as the only US partner, not Biden or Heinz." (28)
The third set of bonds is sold in April 2015, "raising $16 million. The funds to buy those bonds come from one client of the second investment advisory company purchased by Galanis and Archer." (28)
"At that point, the Tribe has issued $64 million worth of bonds — that it will one day have to buy back — and none of the $64 million has been invested for the benefit of the tribe. The fraud is clear and absolute." (28)
"One email string from Cooney's account was released early this morning. The participants in the three-way exchange are Devon Archer, Jason Galonis, and Bevan Cooney." (28)
"The email string is dated October 5, 2013 — six months before the Indian Bond fraud scheme is put in place. Here are the exchanges in the order they took place: ." (28)
"Archer: Very interesting. Let's discuss today. One subtlety is that I think we want to do with Rosemont Seneca SPV. It won't make a difference on the economics other than we bring Hunter into the mix a little but without a commitment. I want to leverage Hunter more and he's a good guy for us to include." (28)
"Cooney: Would be good to put some honey in Hunter's pocket." (28)
"Archer: Agreed. I also have more autonomy with that company as I own it with Hunter and he's willing to take on risk whereas with Rosemont Capital, Chris is much more risk averse. Hunter will work if we need him too as well. I'm actually thinking we move all of my bios and everything across the board to Rosemont Seneca Partners and get any lift from that. I would also like to take Chris out of my bio across the board in our materials." (28)
"Galanis: Done. Got the mission. Operation Ketchup will be watered down. Hunts only from now on." (28)
"Cooney: No reason to have Heinz in your bio. Cheddar cheaseball move." (28)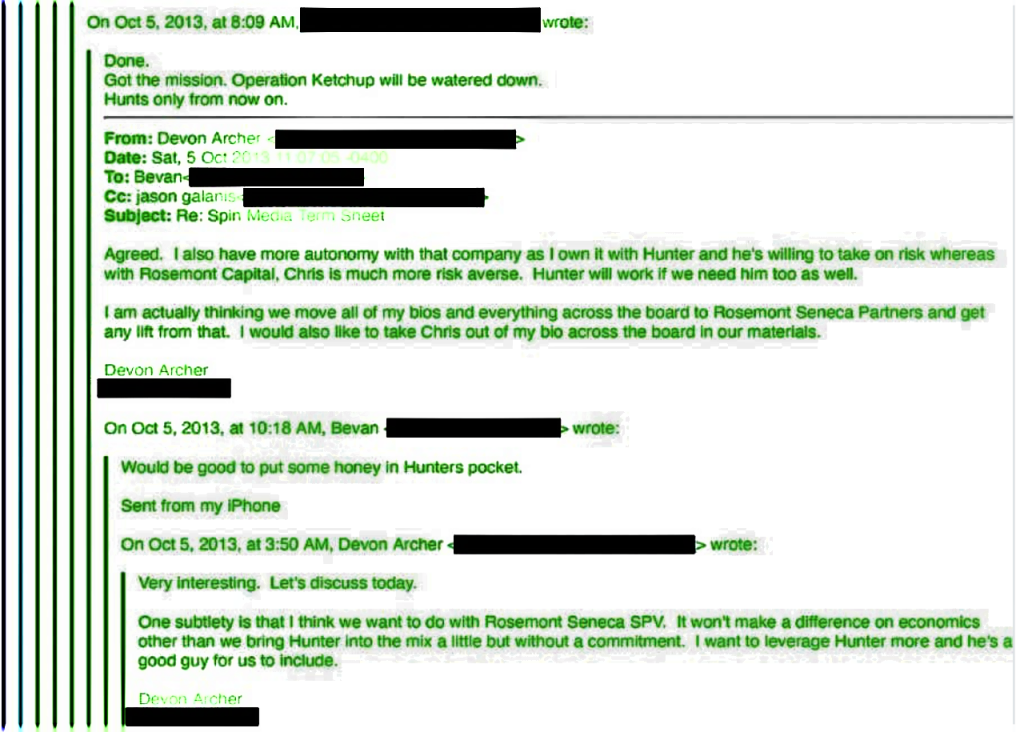 ""In the fall of 2013, Archer had crawled into bed with Galanis and Cooney, and they were recrafting biographical information about Archer to minimize the connection between Archer and Chris Heinz. At the same time, Archer is wanting to bring Hunter Biden — son of the Vice President — into their enterprise, as Hunter is willing to assume some risk, and Hunter will "work" if they need him to." (28)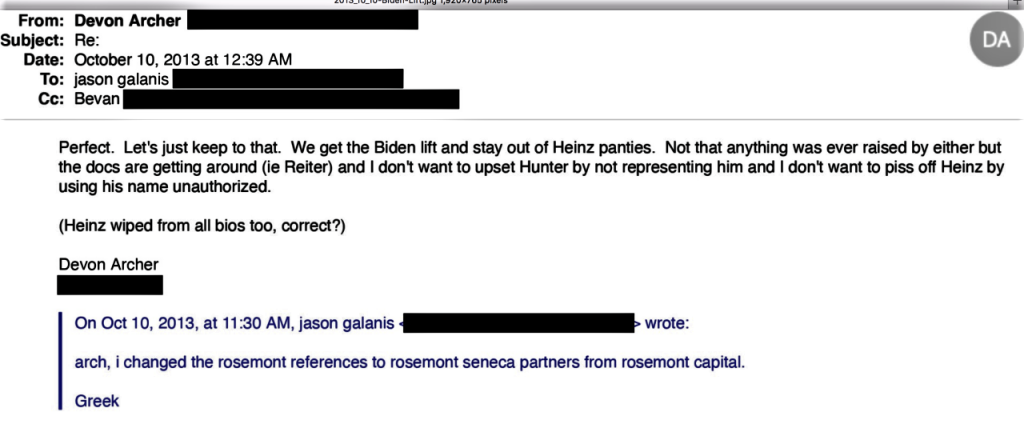 "Within six months the group is involved in clear securities fraud." The question now concerns Hunter Biden's involvement. (28)
Tony Bobulinski, "A former business associate of Hunter Biden," confirmed he was one of the recipients of the email published by the New York Post "which details proposed payout packages and equity shares in a Biden venture with a now-defunct Chinese energy conglomerate." (17)
Bobulinski, "whose name and email appear in the recipient list of the email, told The Epoch Times that the deal outlined in the message concerned a partnership between Chinese energy firm CEFC and the Biden family." (17) He also told Fox News that "the Biden family 'aggressively leveraged' its name in foreign business dealings'" (24)
"Bobulinski is a retired lieutenant in the U.S. Navy and the CEO of Sinohawk Holdings, which he explained "was a partnership between the Chinese operating through CEFC/Chairman Ye and the Biden family." He said he was brought on as CEO by Hunter Biden and James Gilliar and … released emails and text messages that appear to show Joe Biden's involvement with his son's foreign business dealings." (24)
"Bobulinski said the Senate Committee on Homeland Security and Government Affairs and the Senate Committee on Finance have requested documents on his business affairs with the Biden family "as well as various foreign entities and individuals." (17) "I have extensive relevant records and communications, and I intend to produce those items to both Committees in the immediate future," Bobulinski said." (17)
Bobulinski released the following statement "due to the dispute over whether the emails are real and the insinuations of foreign involvement." (17) "Bobulinski also provided his statement to Breitbart News, Fox News, and the Post." (17)
Full Statement by Tony Bobulinski
"My name is Tony Bobulinski. The facts set forth below are true and accurate; they are not any form of domestic or foreign disinformation. Any suggestion to the contrary is false and offensive. I am the recipient of the email published seven days ago by the New York Post, which showed a copy to Hunter Biden and Rob Walker. That email is genuine." (17)
"This afternoon I received a request from the Senate Committee on Homeland Security and Government Affairs and the Senate Committee on Finance requesting all documents relating to my business affairs with the Biden family as well as various foreign entities and individuals. I have extensive relevant records and communications and I intend to produce those items to both Committees in the immediate future." (17)
"I am the grandson of a 37 year Army Intelligence officer, the son of a 20+ year career Naval Officer and the brother of a 28 year career Naval Flight Officer. I myself served our country for 4 years and left the Navy as LT Bobulinski. I held a high level security clearance and was an instructor and then CTO for Naval Nuclear Power Training Command. I take great pride in the time my family and I served this country. I am also not a political person. What few campaign contributions I have made in my life were to Democrats." (17)
"If the media and big tech companies had done their jobs over the past several weeks I would be irrelevant in this story. Given my long-standing service and devotion to this great country, I could no longer allow my family's name to be associated or tied to Russian disinformation or implied lies and false narratives dominating the media right now." (17)
"After leaving the military I became an institutional investor investing extensively around the world and on every continent. I have traveled to over 50 countries. I believe, hands down, we live in the greatest country in the world." (17)
"What I am outlining is fact. I know it is fact because I lived it. I am the CEO of Sinohawk Holdings which was a partnership between the Chinese operating through CEFC/Chairman Ye and the Biden family. I was brought into the company to be the CEO by James Gilliar and Hunter Biden. The reference to "the Big Guy" in the much publicized May 13, 2017 email is in fact a reference to Joe Biden. The other "Jim" referenced in that email is Jim Biden, Joe's brother." (17)
"Hunter Biden called his dad 'the Big Guy' or 'my Chairman,' and frequently referenced asking him for his sign-off or advice on various potential deals that we were discussing. I've seen Vice President Biden saying he never talked to Hunter about his business. I've seen firsthand that that's not true, because it wasn't just Hunter's business, they said they were putting the Biden family name and its legacy on the line." (17)
"I realized the Chinese were not really focused on a healthy financial ROI. They were looking at this as a political or influence investment. Once I realized that Hunter wanted to use the company as his personal piggy bank by just taking money out of it as soon as it came from the Chinese, I took steps to prevent that from happening." (17)
"The Johnson Report connected some dots in a way that shocked me—it made me realize the Bidens had gone behind my back and gotten paid millions of dollars by the Chinese, even though they told me they hadn't and wouldn't do that to their partners." (17)
"I would ask the Biden family to address the American people and outline the facts so I can go back to being irrelevant—and so I am not put in a position to have to answer those questions for them." (17)
"I don't have a political ax to grind; I just saw behind the Biden curtain and I grew concerned with what I saw. The Biden family aggressively leveraged the Biden family name to make millions of dollars from foreign entities even though some were from communist-controlled China." (17)
"God Bless America!!!! ." (17)
Red Dragon
References
Native Sun News: Oglala man's business dealings under scrutiny – https://www.indianz.com/News/2014/014790.asp written and reported by Brandon Ecoffey, Native Sun News Managing Editor. All content © Native Sun News. Posted: Tuesday, August 19, 2014
Intercontinental Cry: BLACK HILLS TREATY COUNCIL WINS JUDGMENT AGAINST RAINDANCER RESOURCE MANAGEMENT – https://intercontinentalcry.org/black-hills-treaty-council-wins-judgment-against-Raindancer-resource-management/ By Natalie Hand – "All of the information furnished herein, with the exception of my opinions, was sourced from public records. If you wish to have a copy of any of the federal court documents, Tribal documents, or state records that I have obtained, please feel free to contact me at 867-5762 or pteole(at)gwtc.net" (2) – Natalie Hand is an environmental & indigenous rights activist and is the co-founder of Looks for Buffalo Foundation. She is dedicated to the preservation of the Lakota culture and language.
Native American Capital: Heather Dawn Thompson Takes Lead Management Role in Tribal Opportunity Zones Venture Group – https://nativeamericancapital.com/headline/heather-dawn-thompson-takes-lead-management-role-in-tribal-opportunity-zones-venture-group – Oct 28, 2014
Native 17, LLC: GET ON THE PATH TO RESULTS TODAY. Indian Reorganization Act Section 17 advising and consulting, 4257 Panorama Drive Salt Lake CIty, Utah84124 – https://native17.com/ R. Dennis Ickes, President rdIckes@native17.com
Progressive.org: A Tribe's Bad Deal With Wall Street – https://progressive.org/magazine/tribe-s-bad-deal-wall-street/ – Arvind Ganesan October 28, 2016 – Arvind Ganesan is the director of the business and human rights division at Human Rights Watch and was the principal investigator into the financial activities of the Lower Brule Sioux Tribe. – an Ickes deal…
Indianz.com: Hunter Biden's name used to legitimatize sales – https://www.indianz.com/News/2020/01/27/Hunter-Bidens-name-used-to-legitimize-sa.asp
Rapid City Journal: Consultant says Brewer's suspension is retaliation – https://rapidcityjournal.com/news/local/consultant-says-brewers-suspension-is-retaliation/article_bb2dc79c-ea5e-52ef-8399-70d759012ca0.html – Daniel Simmons-Ritchie and Joe O'Sullivan Journal staff , Jun 26, 2014 Updated Jun 30, 2014
Turtle Talk: Chicago Employee Retirement Fund Sues "Fly-By-Night Tribal Financiers" + Law Firms over "Issuance of $43 million in Worthless Bonds"- https://turtletalk.blog/2019/10/25/chicago-employee-retirement-fund-sues-fly-by-night-tribal-financiers-law-firms-over-issuance-of-43-million-in-worthless-bonds-case-involves-Oglala-sioux-tribe/ – case involves Oglala Sioux Tribal Subdivision — Updated with Federal Court Materials – October 25, 2019 Matthew L.M. Fletcher
Breitbart.com: This is the tribal bond deal
https://www.breitbart.com/politics/2020/10/20/exclusive-Biden-defectors-emails-reveal-hunters-associates-viewed-direct-pipeline-to-administration-as-currency/ – Exclusive: Biden Defector's Emails Reveal Hunter's Associates Viewed Direct 'Pipeline' to Administration as 'Currency' 20 Oct 2020AP Photo/Matt Rourke – Peter Schweizer is the author of Profiles in Corruption: Abuse of Power by America's Progressive Elite. Seamus Bruner is the author of Fallout: Nuclear Bribes, Russian Spies, and the Washington Lies that Enriched the Clinton and Biden Dynasties.
Red State: The Sugar-Man Can — The Funder Who Got the Ball Rolling for Devon Archer and Hunter Biden: Part Two – https://redstate.com/shipwreckedcrew/2020/10/20/the-sugar-man-can-the-funder-who-got-the-ball-rolling-for-Devon–Archer-and-Hunter–Biden-n262881 – [/author/shipwreckedcrew]ShipwreckedcrewOct 20, 2020 12:30 PM ETAP Photo/Visar Kryeziu
Native Sun News: Lawsuit filed in fraudulent bond sale scheme – https://www.nativesunnews.today/articles/lawsuit-filed-in-fraudulent-bond-sale-scheme/ – January 14, 2020 – By Ernestine Chasing Hawk Native Sun News Today Staff
NY Post,com: Private-eye firm claims Hunter Biden is linked to multiple criminal probes – https://nypost.com/2019/12/23/Hunter-bidens-baby-mama-says-hes-linked-to-multiple-criminal-probes/ – By Elizabeth Rosner and Aaron Feis December 23, 2019
Justice.gov: John Galanis Sentenced To 10 Years In Prison For His Participation In A Scheme To Defraud A Native American Tribe And Various Investors – www.justice.gov/usao-sdny/pr/john-Galanis-sentenced-10-years-prison-his-participation-scheme-defraud-native-american) – PRESS RELEASE –
Justice.gov: Seven Defendants Charged in Manhattan Federal Court With Defrauding A Native American Tribe And Investors Of Over $60 Million – https://www.justice.gov/usao-sdny/pr/seven-defendants-charged-manhattan-federal-court-defrauding-native-american-tribe-and – PRESS RELEASE – Wednesday, May 11, 2016 – Seven Defendants Charged in Manhattan Federal Court With Defrauding A Native American Tribe And Investors Of Over $60 Million
Aljazeera.com: The Tribe that said No – http://projects.aljazeera.com/2014/payday-nation/sioux-tribe-payday.html – By Nicholas Nehamas for Al Jazeera America – June 18, 2014
The Epoch Times: 'Big Guy' in China Deal Email Was Joe Biden, Former Hunter Biden Partner Says – https://www.theepochtimes.com/former-Biden-associate-says-big-guy-in-china-deal-was-joe-Biden_3548940.html?utm_source=newsnoe&utm_medium=email&utm_campaign=breaking-2020-10-22-2 – BY IVAN PENTCHOUKOV October 22, 2020 Updated: October 22, 2020
Finance.Yahoo.com: SEC Charges Father and Son, Among Others, in Tribal Bonds Fraud – https://finance.yahoo.com/news/sec-charges-father-son-among-155537457.html?guccounter=1&guce_referrer=aHR0cHM6Ly93d3cuYmluZy5jb20v&guce_referrer_sig=AQAAAKmNn6DCMSTM_zDralBAyCgTiQFq1uI1uZ6OW7DNUfYi6vKFp19XExvjvrfLzUywY89TJ5QBNnmI6EM7eEWFudywcDkNZO18ooy-suVCmydRokUYHk3P5nW_EHo42UV4Pg-9EUYrdRiAR9Xm2cdYRn7k4b0xjRe_u8LXq0qEzZsJ – May 12, 2016 11:55 am. Last Updated: January 13, 2020 8:08 am – Chris Lange
Indianz.com: Wakpamni Lake Community Corporation issues statement -https://www.indianz.com/News/2020/02/06/native-sun-news-today-reservation-commun.asp – Native Sun News Today: Reservation community responds – Thursday, February 6, 2020 [/News/2020/2020_02_06.asp] – By Ernestine Anukasan Waste
Justice.gov: Jason Galanis Sentenced In Manhattan Federal Court For Multiple Securities Fraud Schemes- https://www.justice.gov/usao-sdny/pr/Jason-Galanis-sentenced-manhattan-federal-court-multiple-securities-fraud-schemes – PRESS RELEASE – Thursday, September 24, 2020 – Southern District of New York
Red State: Jaw-Dropping Report Details Chinese State-Owned Company's Partnership With Biden, Kerry Families – https://redstate.com/jenvanlaar/2020/10/23/jaw-dropping-report-details-Chinese-state-owned-companys-partnership-with-Biden-Kerry-families-n267739 – By Jennifer Van Laar | Oct 23, 2020
Daily Caller.com: 'You Don't Get More Politically Connected': Participants In Securities Fraud Scam Touted Links To Hunter Biden – https://dailycaller.com/2019/10/20/Hunter-Biden-Devon-Archer-fraud/ – Andrew Kerr and Chuck Ross – Contributor – October 20, 2019
WSJ.com: Hunter Biden's Name Was Used as Selling Point in Fraudulent Bond Scheme – https://www.wsj.com/articles/Hunter-Bidens-name-was-used-as-selling-point-in-fraudulent-bond-scheme-11571863676 – Joe Biden's son, now under fire for work abroad, was invoked—without his knowledge, his lawyer says—in bid to drum up business – By and Updated Oct. 24, 2019 7:05 pm ET
Foxnews.com: Tony Bobulinski as guest to debate – https://www.foxnews.com/politics/president-trump-plans-to-bring-Hunter–Biden-associate-Tony–Bobulinski-as-guest-to-debate – By John Roberts, Brooke Singman | Fox News Oct 2020
Politico.com: Biden Inc. – Over his decades in office, 'Middle-Class Joe's' family fortunes have closely tracked his political career – https://www.politico.com/magazine/story/2019/08/02/joe-biden-investigation-hunter-brother-hedge-fund-money-2020-campaign-227407 – BEN SCHRECKINGER 05/08/20 09:44 PM EDT – Ben Schreckinger is a reporter for Politico.
Burke Law: Greenberg Reaches Deal With III. Fund in Bond Fraud Suit – https://www.burkelaw.com/pressroom-news-494.html – Aug 13, 2020 – Aaron Stanton – In the News
Tennessee Star: Commentary: The Biden Family Scandal Is Monumental; It's the October Surprise Joe Biden Just Wants to Go Away – https://tennesseestar.com/2020/10/23/commentary-the-Biden-family-scandal-is-monumental-its-the-october-surprise-joe-Biden-just-wants-to-go-away/ – by Julie Strauss Levi
Red State: Should Hunter Biden be in jail? – https://redstate.com/shipwreckedcrew/2020/10/19/why-is-Hunter-Biden-not-in-jail-another-look-at-the-Oglala-sioux-indian-tribe-securities-fraud-case-n262770 – By Shipwreckedcrew | Oct 19, 2020
SEC.gov: SEC Charges Father, Son, Others in Tribal Bonds Scheme – https://www.sec.gov/news/pressrelease/2016-85.html – PRESS RELEASE
2016-85 – Washington D.C., May 11, 2016 — Press Release
Related Stories
Native Sun News Today: Hunter Biden's name used to legitimize sale of fraudulent tribal bonds (January 27, 2020)
Native Sun News Today: Lawsuit filed in fraudulent bond sale scheme (January 15, 2020)
Geneva Lone Hill: Economic development in Indian Country (January 15, 2020)
Oglala Sioux Tribe responds to allegations in massive bond scam (June 9, 2016)
Bail revoked for defendant in Oglala Sioux Tribe bond scheme (May 18, 2016)
Seven accused of defrauding Oglala Sioux Tribe in bond scheme (May 12, 2016)
Native Sun News: Oglala leaders divided on consultant contracts (April 7, 2016)
Lakota Country Times: Oglala Sioux district eyes 'micro-gaming' (April 1, 2016)
Native Sun News: Oglala Sioux Tribe questions business proposal (March 11, 2016)
Native Sun News: Oglala man's business dealings under scrutiny (August 19, 2014)
Native Sun News: Payday loan story stirs squabble at Pine Ridge (July 7, 2014)
Documents
03/17/17 – Greenberg Traurig, LLP Invoice to Wakpamni Lake and Reines – https://turtletalk.files.wordpress.com/2019/10/150-12-gt-invoice-to-wlcc.pdf
06/26/19 – SEC v. Sugarman – https://www.sec.gov/litigation/complaints/2019/comp-pr2019-113.pdf
10/18/19 – Chicago Transit Authority RHCT v. Dilworth Paxson/ Greenberg Traurig, LLP – https://turtletalk.files.wordpress.com/2019/10/1-1-complaint-w-exhibits.pdf
Ibid – https://www.nativesunnews.today/wp-content/uploads/2020/01/complaint-Wakpamni-District-Raycen-Raines.pdf